World
The Waifs: we'd stripped to our undies and started on the vodka when Bob Dylan called us onstage | Music
It was 2003 and the Waifs had been booked to open for Bob Dylan for 30 of his tour dates throughout the United States.
After settling into the preliminary reveals, my sister (and fellow Waifs singer) Donna Simpson and I had been summoned to soundcheck by Larry Campbell, Dylan's guitarist, to rehearse some backing vocals on Knockin' on Heaven's Door. Generally Dylan invitations company onstage to be a part of him in singing it, Larry stated.
Knockin' on Heaven's Door was the first tune Donna and I ever discovered and we had been over the moon at the prospect of becoming a member of Dylan onstage to sing it. "Don't maintain your breath," Larry informed us, "It could not occur."
Mid-tour, Dylan generously gifted our entire band stunning tailor-made western shirts – the refined suggestion being that we may sharpen up our act.
Every night time we waited, shirts pressed, for the name to be a part of Dylan and his band onstage. The name by no means got here. Twenty-nine gigs in, we'd seen all the reveals and had our minds blown by music and the reality we had been touring the US with one in every of the world's most influential songwriters. We had been at the high, driving the simple prepare with backstage catering and a tour bus, pleasant with all the forged and crew.
The dream of singing in Dylan's set had lengthy pale into the humdrum routine of after-gig tales and shenanigans. We'd come offstage, drink beers, bust out the Scrabble, get unfastened and decompress earlier than the in a single day lengthy haul to the subsequent gig.
The final night time of the tour rolled round in Raleigh, North Carolina. It was a giant out of doors present, sizzling and sweaty, and the Waifs had been well-received by the 6,000-strong crowd.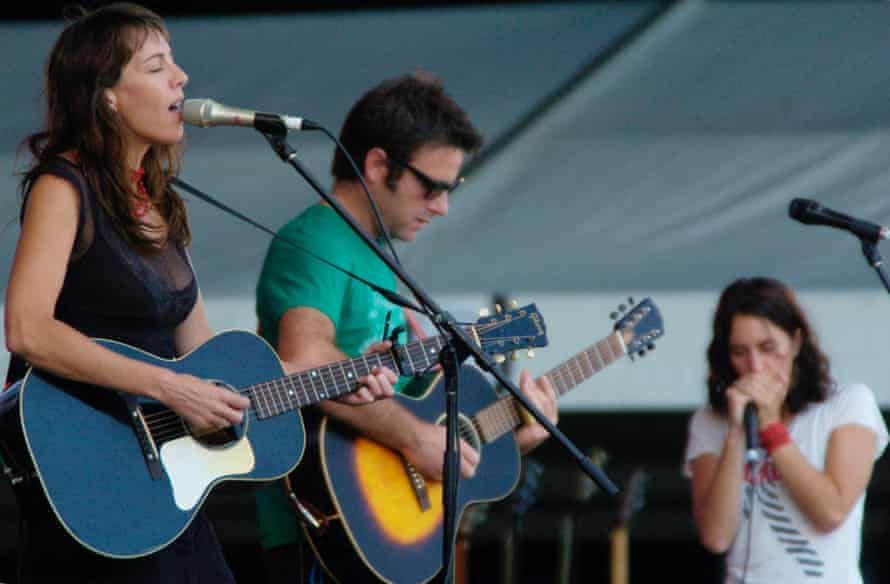 We got here offstage pumped. We had executed it! Thirty dates by North America opening for Bob Dylan. The inexperienced room was under the stage, down a set of wood stairs. Donna and I stripped off to our undies, cracked open a bottle of vodka and started up with the guys in the band to rejoice the tour's wrap. We had been a couple of pictures in and feeling just a little inebriated when Dylan's stage supervisor burst by the door, asserting: "Stage lights down – Bob's ready for you two."
WHAT??
"Dylan has simply invited you each onstage to sing."
In a frenzy we tore by suitcases searching for our new shirts, hopping round, pulling on pants and footwear. Everybody was screaming: "Hurry up! Hurry up!"
Donna was forward of me on the stairs. At the high I rushed in the direction of the darkened stage and ran smack right into a concrete pole. As I reeled backwards, somebody caught me and pushed me ahead.
Lights up.
Dylan was to my proper. He nodded and mumbled: "Good shirts."
He started strumming these three chords – the first chord development Donna and I had ever discovered.
I used to be delirious – was this really occurring or did I simply knock myself out on a pole? Can heaven wait or am I standing at its door proper subsequent to the man who wrote its theme tune?
The harmonies kicked in. "Ooooooh, ooooh, ooooooh."
I took the fifth. Dylan took the lead. "Mama take this badge off me … "
We smiled. We had been in the tune – the first tune I painstakingly plucked out on Dad's guitar in an outdated trailer on the fishing camp. Donna had stolen the Dylan songbook from the faculty library so we may ease the boredom between hauling fish. She used to dream of assembly him. This was the tune we'd heard our mother and father sing at events whereas we had been meant to be sleeping; that we'd harmonised on collectively at each formative gig we'd ever performed since we had been youngsters.
Each a type of 6,000 folks in the viewers had an analogous story with that tune, and in that second, we had been in it, serving to to carry the sound and melody to life, sending it out to ignite their very own recollections and connections. Standing beside the biggest, heads pounding, hearts on hearth, singing out, trying sharp. Knocking on heaven's door.